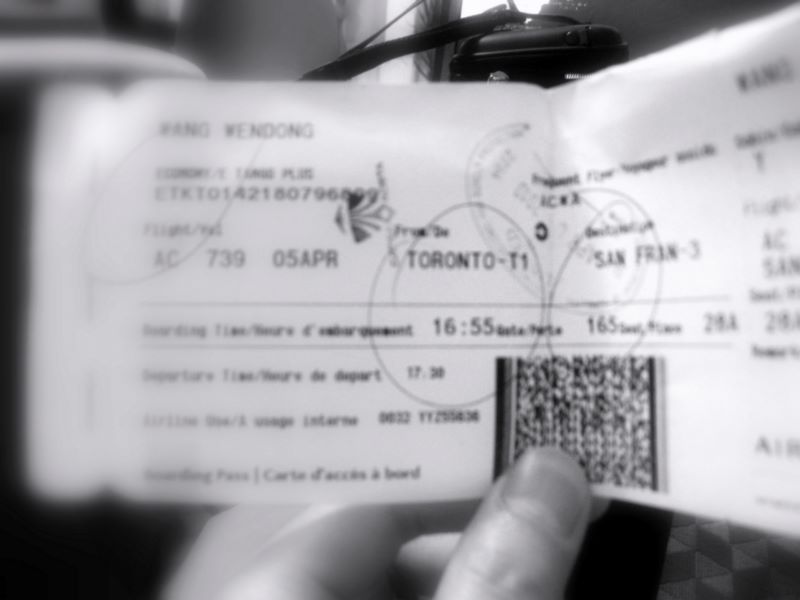 I was 10 minutes late for my flight to San Fransisco this morning. The flight was on 9:30am. I know that I have absolutely no excuse to miss a flight not so early. But…. So for the second time in my life, I missed a flight. It seems to be the kind of mistakes that I need to make regularly in order to remember the consequence. The last time I missed anything was a flight from Bangkok to Singapore in 2005. The year after that, in 2006, I missed a train in Shanghai. Well my record wasn't too bad from 2007 – 2009. And then probably this good record created a sense of complacency and neglect, which turned into another miss.
I was trying to figure out why I was late today, and all sorts of reasons come to me: weather, flight time, work, email, or just a familiarity with travelling that breeds neglect. I guess I just wasn't in the travel mood yet. So while I am waiting in the airport for my rescheduled flight in the evening, I decided to compile a list of things I need to do before travelling. So here is the list:
For flight, remember the cut-off time for check-in. It takes about half an hour subway and 15 minutes shuttle bus to get from graduate house to Tonroto airport. In addition, there could be up to 15 minutes connection time between the subway and the shuttle bus.
Here is a list of things I found either very handy or essential to my travel in Brazil, in addition to the list I have before:
– passport, id, credit card, cash, location of where you stay, and invitation letter if traveling to the states.
– Visa Pin
– Medicine (cold, stomach)
– VC
– Phrase Book, if not an English speaking or Chinese speaking country
– Local airplane company information through Lonely Planet Travel Guide
– Sticky note sheets
– Locks
– toothbrush, toothpaste, soap, shampoo, washing powder, bath towel, and slippers ( for hostel)
– paper towel
– cellphone, camera, watch, sun-glass, face tissue
inside Laptop pack: increasing number of hostels offer wireless access.
– laptop and electric chords
– cell phone battery charger
– some food
– ipod – music, audio book
– a coat, to keep warm while sleeping on the flight.
– umbrella
– bend-aid.