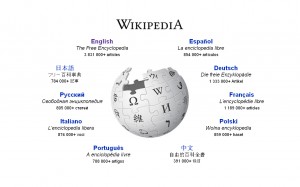 As I was sifting through unread emails during the new year's eve, I found one email from Wikipedia.
Dear Wendong,

This is incredible. With just a few days to go in our 2011 fundraiser, we're so close to reaching our annual budget. Then we'll have everything we need to keep Wikipedia going in 2012.

Only about 1 of 500 Wikipedia users donates each year. But that's enough to keep us free for the whole world to use, without ads, and without restriction.

When we raise our budget, we stop fundraising. Please help us end this year's fundraiser today with a donation of $5, $20, $50 or whatever you can.

Thanks and Happy New Year,
Jimmy Wales

You are receiving this email as a valued donor of the Wikimedia Foundation. If you do not wish to receive any future emails from the Wikimedia Foundation, unsubscribe instantly.

Wikimedia Foundation, Inc.
P.O. Box 98204
Washington, DC 20090-8204
United States of America
I thought given the amount of information I get from wikipedia, I should probably support it, even only a little. So I clicked the link, and read the following message:
We're at the time of year when people all over the world come together to sustain and protect Wikipedia.

If everyone reading this donated $5, we could end the fundraiser today. Not everyone can or will donate. And that's fine, because each year just enough people support Wikipedia with a small donation. Please make a donation of $5, $10, $20 or whatever you can to help us reach our goal before the end of the year.

Google might have close to a million servers. Yahoo has something like 13,000 staff. We have 679 servers and 95 staff.

Wikipedia is the #5 site on the web and serves 470 million different people every month – with billions of page views.

Commerce is fine. Advertising is not evil. But it doesn't belong here. Not in Wikipedia. Wikipedia is something special. It is like a library or a public park. It is like a temple for the mind. It is a place we can all go to think, to learn, to share our knowledge with others.

When I founded Wikipedia, I could have made it into a for-profit company with advertising, but I decided to do something different. We've worked hard over the years to keep it lean and tight. We fulfill our mission, and leave waste to others.

This year, please consider making a donation to protect and sustain Wikipedia.

Thanks,

Jimmy Wales
Wikipedia Founder
With only 679 servers and 95 staff, it is amazing that they can accomplish so much with so little. So then, I made my $10 contribution, and this morning, I received the following email:
Dear Wendong,

You are amazing, thank you so much for donating to the Wikimedia Foundation!

This is how we pay our bills — it's people like you, giving five dollars, twenty dollars, a hundred dollars. My favourite donation last year was five pounds from a little girl in England, who had persuaded her parents to let her donate her allowance. It's people like you, joining with that girl, who make it possible for Wikipedia to continue providing free, easy access to unbiased information, for everyone around the world. For everyone who helps pay for it, and for those who can't afford to help. Thank you so much.

I know it's easy to ignore our appeals, and I'm glad that you didn't. From me, and from the tens of thousands of volunteers who write Wikipedia: thank you for helping us make the world a better place. We will use your money carefully, and I thank you for your trust in us.

Thanks,

Sue Gardner
Wikimedia Foundation Executive Director
It is people like them who have sustained my belief in the good nature of human spirit. When I check again the wikipedia site, they showed a message that they have achieved their target!
Thank you from Executive Director Sue Gardner

Thank you.
Today, we're taking down our fundraising banners, because we've hit our target. Thanks to you. Over the past few months, more than one million people have come together from all over the world to keep Wikipedia and its sister sites alive and flourishing for another year.

Your support is how we pay our bills. People like you, giving five dollars, twenty dollars, a hundred dollars. Thank you for helping us.

We're the #5 most-popular site in the world — we operate on a tiny fraction of the resources of any other top site. We will use your money carefully and well, I promise you.

For everyone who helps pay for Wikipedia and all the Wikimedia projects, and for those who can't afford to help — thank you so much for making the world a better place.

Sue Gardner
Executive Director
Wikimedia Foundation